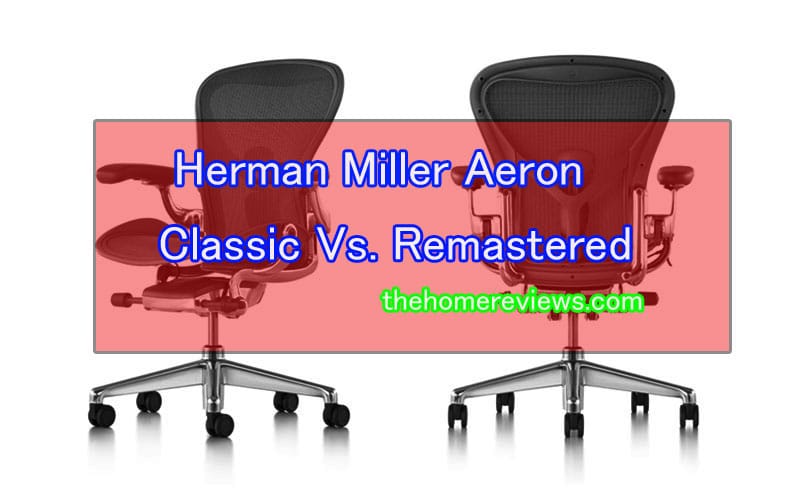 Herman Miller comes with Aeron Classic and Remastered, with the primary features that Herman Miller has always followed. The conflict between Herman Miller Aeron Classic and Remastered begins with the basics. You'll find everything you need to know about these chairs right here.
Aeron Classic vs. Remastered
Both the Herman Miller Aeron Classic and Remastered chairs are excellent choices for anyone looking for a high-quality, ergonomic office chair. The Classic version is a great option for those who prefer a more angular design and want to save some money. The remastered version, on the other hand, offers some improvements in design, comfort, adjustability, and durability that may be worth the extra investment. Ultimately, the choice between the two will depend on your personal preferences and budget.
Size:
The basic difference between these two chairs is the size of both chairs and the size of the person who will use them. Both chairs come in three different sizes. The Aeron Classic weighs 23 kg, and the Remastered weighs 21 kg. The latter weighs less because of the material savings that were used when manufacturing this chair. The new version is thinner than the former, and its features are pretty distinctive. Both chairs can weigh up to 350 lbs.
Build and finish:
The Remastered comes in a graphite color, also known as black. The Classic, on the other hand, comes in a lighter shade The battle does not end here. The net material in Remastered is thinly knitted. In Remastered, you will find updated levers, and the design is also sleek. Remastered is your modern choice here. However, while making the Aeron Classic, more aluminum was used than the Remastered. Aluminum was swapped with plastic in Remastered, and that's why Remastered is lighter than the Classic. Aeron Classic won against Remastered in terms of build and quality.
Seat Design:
The difference in seat design between Herman Miller Aeron Classic vs Remastered is padding under the front portion of the seat. The pad is removed in the remastered Depending on your weight and size, this pad has no actual value. You can tilt 1.8 degrees while sitting on your Remastered chair, which is impossible in your Aeron Classic. Remastered has various features that support your backrest and help you stretch. 8 different zones are combined to provide you with enough support, including 4 of them working for your backrest.
Tilt Lock:
Aeron Classic comes with an infinite position lock. In comparison to Aeron Classic, Remastered has only three position locks. Maybe Herman Miller does not want Remastered to win against Aeron Classic. If you purchase the Aeron Classic, you can tilt the chair as much as you want and lock the backrest in any position.
Backrest and Lumbar:
As told before, the Remastered has 8 different zones to support your backrest. The mesh in the seat is also very different. They are thinly knitted. It was designed to give you more ergonomic support. With this chair, you can sit as long as you want. The posture-lumbar adjustment system also offers more comfort for your back. However, the pad in the Aeron Classic ensures firmness. It has a tension dial with which you can ensure firmness. The plastic bucket in Remastered gives you flexibility for going up and down.
Tension:
The Remastered is much more responsive than the Classic Aeron. Tension control is effective in Remastered. For tension control, Remastered wins over Aeron Classic. To notice the difference between Remastered and Classic Aeron, turn the handle 3 times in Remastered and 13–15 times in Classic Aeron.
Recline:
Remastered can give you more support for your back than Classic. The new version of Aeron goes back to the upright position without letting you feel any difficulty. The Aeron Classic recliner is On Aeron Classic, you need to use your legs to return to an upright position. This chair depends more on natural movement than remastered.
You will experience upgraded arm height and pivot adjustment on both Aeron Classic and Remastered. The new Aeron offers more versatility with this option. Before, you had to press the handle on the Aeron Classic to release the armrest first. When you find your comfortable position, you can lock the handle. In Aeron Classic, you can swivel up and down almost 17 degrees You can either purchase a vinyl or leather armrest according to your wishes.
Stability:
Ensuring ergonomic stability is something that everybody desires from their chair. In an ergonomic position, you can get the best productivity With the healthiest sitting position, you will face no problems while working. The Remastered comes with a lumbar pad to offer you enough stability for your back.
Breathability:
A flexible synthetic mix of the seat and the back of the chair makes both of these chairs attractive to buyers. The improved 8Z pellicle zones are enough to offer support. These chairs are specially designed for human skin and heat accumulation. Usually, pressure points can adjust the temperature.
Easy Configuration System:
Both in Classic and Remastered, height, tilt, armrest, armrest angle—everything is sorted and very easy to assemble. In both chairs, levers are easier to access and adjust your body.
FAQs (Frequently Asked Questions)
Final Word:
The Herman Miller Aeron Classic and Remastered chairs are two exceptional seating options that are designed to provide ergonomic support and comfort to users. Both chairs are highly acclaimed for their innovative design, superior materials, and advanced features that promote good posture and alleviate discomfort.
The Aeron Classic chair was first introduced in 1994 and quickly became a benchmark for ergonomic office seating. The chair features a distinctive mesh backrest that conforms to the user's shape, providing excellent support and ventilation. It also features adjustable lumbar support and a range of customizable settings, allowing users to fine-tune the chair to their specific needs.
In 2016, Herman Miller introduced the Aeron Remastered chair, which takes the original Aeron design and improves upon it with new features and materials. The Remastered chair features an enhanced mesh fabric that provides even better comfort and support, as well as an adjustable PostureFit SL lumbar support that promotes a healthy spine. It also has a more refined tilt mechanism that enables greater freedom of movement and better alignment with the user's natural posture.
Both chairs are highly durable, environmentally friendly, and designed to last for many years. They are available in a range of sizes and colors to suit any workspace and personal preference.
In conclusion, the Herman Miller Aeron Classic and Remastered chairs are exceptional seating options that provide unparalleled ergonomic support, comfort, and versatility. Whether you are looking to improve your posture, reduce discomfort, or simply enhance your overall productivity and well-being, these chairs are sure to exceed your expectations.
See other Related Buyer's guides: