It is as important to know how to adjust office chairs as you want a good office chair for your work station. If you spend your maximum time working at your working desk you must need to adjust your adjustable office chair correctly for your maximum body comfort and to avoid many more health issues.
A bad seating adjustment lets you develop serious spinal issues and other long-lasting health issues.
If your chair is not adjusted properly it may cause poor blood circulation to your legs, backs, and neck. If you spend a long period on a regular basis sitting on a badly adjusted chair you have the likelihood of developing cardiovascular diseases.
There are many adjustable chairs for your office chair. These adjustments depend on your physical size, weight, and height. It's important to know about all the adjustments of your office chair for a proper sitting posture to avoid unwanted health issues like: back pain, neck pain. A good sitting posture will give you a comfortable working period for a long time sitting experience.
However, it is very easy to adjust an office chair for comfortable sitting. You need just a few minutes for a proper adjustment of your office chair if you know how to adjust office chairs.
How to Adjust Office Chairs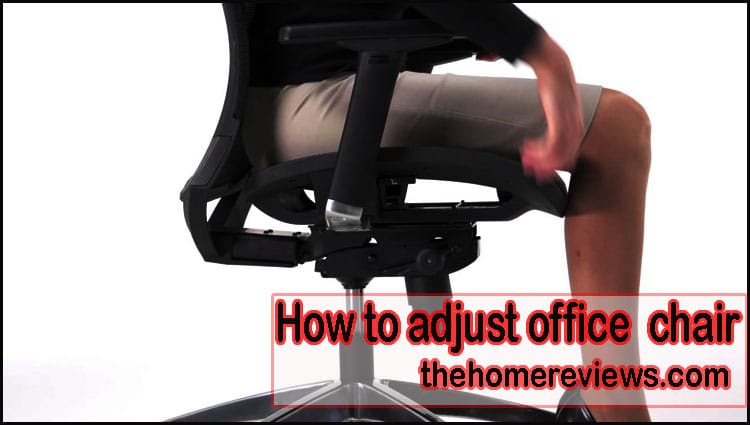 Adjust the Chair Height:
Almost every office chair has the seat height adjustability. There is a lever allows you to set the chair height so that you can adjust the seat height in the right position. It will provide you a comfortable feel to your legs and feet. Your legs should be at 90-degrees and feet should be flat on the floor.
If your chair is too high it causes blood circulation problems to your legs while you spend a long time sitting on your chair. If you are smaller and the lowest height setting is too high still for you, then you should use a footrest.
Ensure your Feet are Firmly on the Floor:
A good seat adjustment allows you to keep your feet flat on the ground. If you are a taller one makes the proper seat height to ensure your feet are firmly on the floor. It is very important to have appropriate blood circulation to your feet. A good posture can provide appropriate foot support and maximum comfort. If your too short and your feet aren't firmly on the ground you need a footrest for a long time sitting.
Adjust the Chair Angle:
Sometimes you need to swing around your chair at your work station or at any meeting. Ergonomic office chairs feature a 360-Degree swivel feature. It allows you easy movement around your office smoothly.
Adjust the Backrest Angle:
An ideal office chair features backrest adjustment. Any ergonomic chair allows you to lean the backrest for comfortable positions. Sometimes after a busy working day, you may need relaxation or a little nap. Sitting with the tilted backrest provides maximum comfort.
You can lock the position you want the seat adjusted horizontally angled. An ergonomic adjustable office chair features a tilting knob to lock the backrest angle in a comfortable seating position you want. If you want to change the tilted position, just unlock the knob.
Adjust the Backrest Height:
Some office chairs allow adjusting the backrest height. It is important for tall people to get proper lumbar support. The adjustment lets you make the proper positioning of the lumbar curve of your chair.
It will provide you firm support to your lower back and lumbar curve. There is a knob to adjust the backrest height on the back of the chair which allows the backrest to move up and down.
Adjust the Armrests Height:
If your office chair provides the armrests adjustment then position them under the desk for proper comfort while you typing. It provides rest to your arms while typing for a long time. A good armrest adjustment should be at elbow height to keep your shoulders relaxed and your arms are at a 90-Degree angle.
Adjust the Lumbar Support:
It is a must to have the lumbar support adjustment in an ideal ergonomic office chair. The lumbar support should be at the natural curve position of your spine. Some chairs feature built-in lumbar support with backrest. You can adjust it with backrest height adjustment. Some ergonomic chairs offer a lumbar pillow for lumbar support. You can position it as you want.
Caster Lock:
If you're looking for an ideal office chair look for a chair with the feature of Caster Lock adjustment. Not every office chair features a caster lock. Heavy-duty swivel casters let you move smoothly at your desk area. The caster lock provides perfect stability when you don't want to move. It also keeps you safe from any unwanted incidents while you're at a leaning position.
Final Word:
There are many types of office chairs on the market featuring different adjustments. Make sure your office chair has the basic and most needed adjustment for your comfortable working hours. Without a proper sitting posture, you cannot provide full concentration on your tasks. You should know how to adjust office chairs for a comfortable seating position.
A well-featured office chair with necessary adjustments can provide you the best working periods. Before going to purchase an office chair make sure that the chair features the adjustments described above are present. Choosing a good adjustable office chair and knowledge of how to adjust office chairs can let you avoid various health issues and provide you a joyful working session.